DIY Costume – Bob's Burgers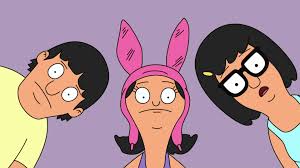 This year for Halloween I decided to do things a bit differently than I usually do. Instead of going out and purchasing some lame pre put together costumes, that cost a million dollars for no reason, I decided to put them together myself. Gathering cheaper items from Target, Amazon and Gap. I did even go to Spirit Halloween for one item, but even that particular item was under ten dollars. So if your wanting to nail the Bob's Burgers Family next year for Halloween, here is what I purchased for our costumes.

Linda's was super easy for me. I got two things in-stores at target and ordered the rest on Amazon. Which we all know how super quick their stuff arrives if you are a prime member. The wig linked is longer than Linda's actual hair, so I had to cut it for it to match. Thanks Katie & Sabs! ha.
Tina's stuff was a little more tricky considering I was transforming my adorable one year old into an awkward thirteen year old. Not to toot my own horn or anything, but I think I did a pretty fantastic job haha. A lot of people actually thought I used a doll and it wasn't really Rory. I promise, it was her haha. I had to consistently sing (off key might I add) Moana to get her to keep the wig on haha. Again, the wig I linked is the exact wig I used, I just had to cut it to match Tina's actual hair cut. Thanks again Katie & Sabs for the help!
Luckily for me, Mason usually gets lazy with his facial hair the second it starts to get remotely cold outside, so I didn't have to worry too much about the mustache. But everything else was super easy to find and affordable! Plus he'll definitely wear both the shirt and the pants again, so it was a win-win.
Last but not least, Louise. At first her dress was a little difficult to find. Mostly because I really wanted to get everything at either Target or Amazon but whatever right. When I finally thought outside of the box and looked at Gap I was relieved. They had the perfect dress. Plus, the Kuchi Kopi necklace at Spirit Halloween was perfect. I didn't want it to be an actual doll because I knew she wouldn't actually carry it along with her sack for candy. It worked out perfectly.
A lot of people did message me asking where Gene was and if you truly watch and appreciate the show, you'll understand my response…
"He's more of an indoor kid. He can't survive in the wild. He's been declawed!"
A.K.A I don't have a son who could have been his character and none of my friends were brave enough haha.
Thank you for all the love and support over our first DIY Costumes! I can't wait until next year to do it again! I may already have something in mind.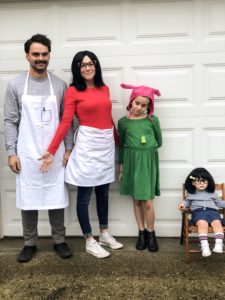 XOXO
---