Hospital Bag Checklist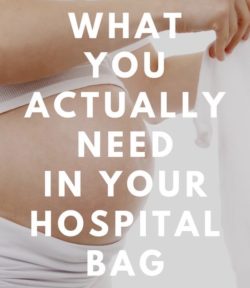 AHHHH… WE ARE GETTING SO CLOSE TO D DATE! I can't believe it.
Some days it feels as if I've been pregnant forever and other days it feels like I just found out. Personally, I think pregnancy is so weird and the entire process is something I have always struggled with but the outcome makes it all worth it. And even though I've done this twice before, I still panic and have anxiety whenever it's finally time to pack the dreaded hospital bag. I don't know about all of you but the lists I've seen online lately that are supposed to be "helpful", just seem extreme to me. So I thought I'd create and share my own list for anyone who just wants the essentials like me. So here is a list, with some links for help, of what you should pack for mom, dad and baby!
For Mom:
(first things first, grab a prettttty big bag! You're about to have more than you can carry leaving the hospital anyway, no need to put everything in multiple bags.)
Glasses/Extra Contacts (Contact Solution if you don't use dailies)
Phone Charger
iPad/Ear Pods
Slippers
Cozy Socks
Regular Socks
Chapstick
Hair Accessories
Hard Candy
Toothbrush
Toothpaste
Makeup Wipes
Deodorant
Hair Brush
Maxi Pads
Towels
Pillow
Maternity Underwear
Makeup & Moisturizer
Robe
Pajamas
More Pajamas
Leggings
Oversized Sweater
Oversized T-Shirt
Comfy Slip on Shoes
The next few are optional depending on if you plan to nurse:
Nursing Bra
Nursing Cami
Nursing Pads
Nipple Cream
Nursing Pillow
For Dad:
(DON'T FORGET TO PUT THE CARSEAT IN THE CAR DAD! LOL HELP YA WIFE OUT!)
Phone Charger (let's be real, no one likes to share)
Laptop
Camera
Airpods
Contacts/Glasses
Snacks (side note: I just love the word snacks, haha)
A change of clothes if Dad can stay!
Slippers
Toothbrush
Deodorant
Men's PJ Pants
T-Shirts
Second most important item for dad to bring:
A Push Gift for Mom (This is just an example!)
For Baby:
Baby Pajamas
Baby Bodysuits
Baby Pants
Baby Hats
Baby Mitts
Baby Blanket
Welcome Home Outfit
Baby Socks
Swaddle Blankets
Diaper Bag
(Bring this extra bag just incase you're stopping anywhere before you go home! It should be filled with the typical baby bag essentials! Look out for another blog post on what goes in your diaper bag soon!)
I know it seems like a lot but I truly stuck to the basics. It only took me about ten minutes to pack and when I was done I felt like I was forgetting things because packing just never seems that easy. Hope this helps some of you mamas out there! Good luck when you're on your way to the hospital!
XOXO
---