Lemon Poppy Seed Muffins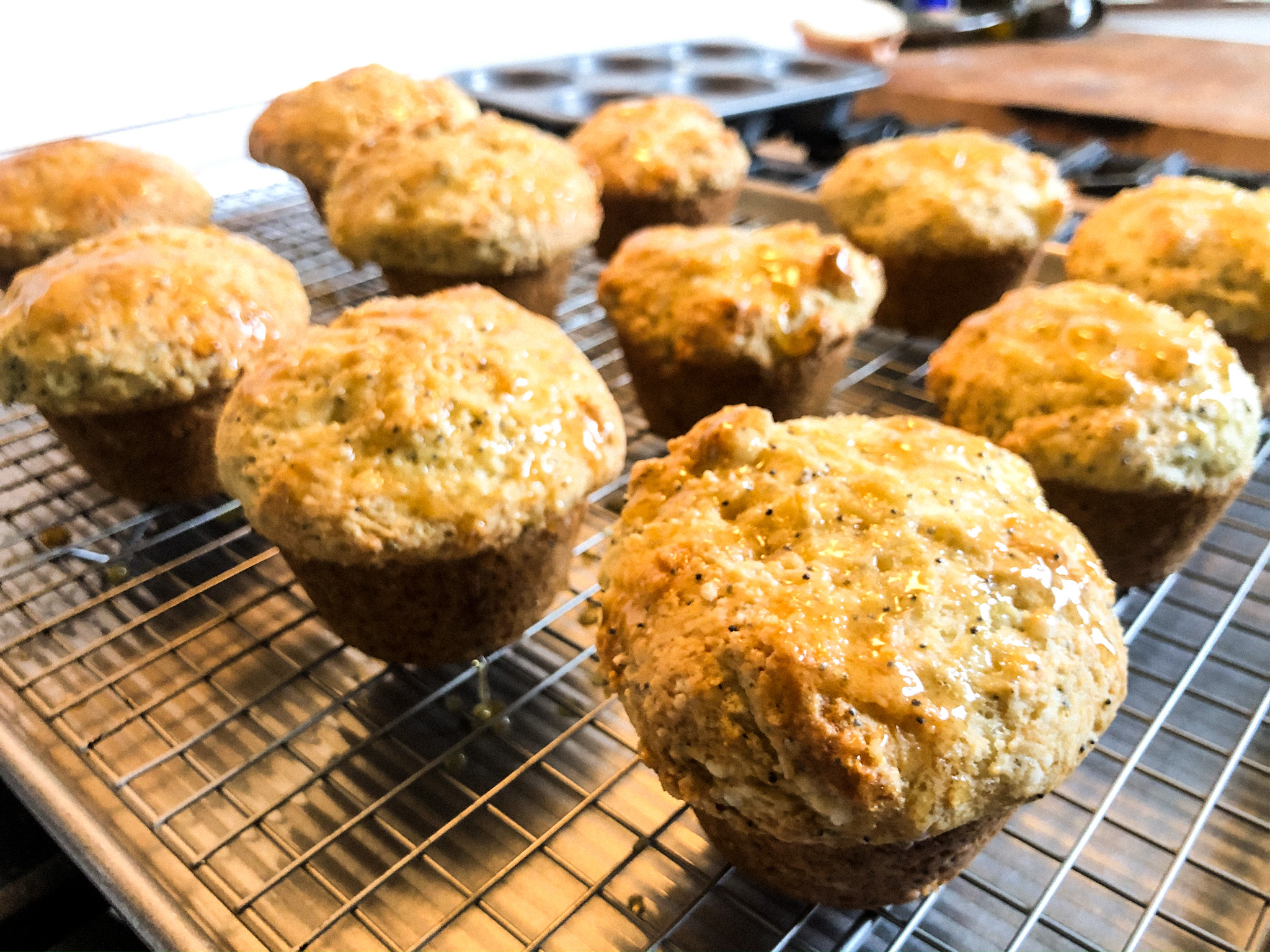 Hi guys!
Were officially almost a month into 2020 and as much as I've been keeping up with my Instagram, I decided it was also time to keep up with my blog. As a New Years resolution I decided it was time to make my IG more diverse and better fit ALL aspects of my life and not just some. So why not do the same for the blog? Food Recipes are just one of the new things I am going to be introducing on the blog more! If you follow me on IG you know that cooking is a huge part of mine and my husbands life. We both love being in the kitchen together and pushing ourselves to try new recipes almost daily.
I have been posting A LOT of photos on my IG stories of the dishes we make and everyone seems to really enjoy them. I get so many messages with questions on how to make the food we share or with some people simply drooling over how good it looks. So I decided it's time I give back and share the deliciousness with you all!
Being 9 months pregnant, I am still craving some abnormal (for me) things. Todays recipe was one of those things. It was also simple but SUPER delicious. If you're not a baking buff this recipe is definitely for you! It is easy to follow and you'll feel like a pro when you taste the turn out. Good luck baking and let me know in the comments how they turn out if you cook them!
LEMON POPPY SEED MUFFINS
Cook Time
25 minutes
Ingredients For Muffins:
3 Cups all-purpose flour
1 Cup sugar
2 tbsp poppy seeds
1 tbsp baking powder
1/2 tsp baking soda
1/2 tsp salt
1 1/2 Cup plain whole milk greek yogurt
2 tbsp fresh lemon juice
1 1/2 tbsp grated lemon zest
2 large eggs
8 tbsp unsalted butter, melted and cooled
Ingredients For the Glaze:
1/4 C sugar
1/4 C lemon juice
coarse sugar for sprinkling
Instructions:
Preheat oven to 375 degrees F. Grease 12-cup muffin tin.
Whisk together the flour, sugar, poppy seeds, baking powder, baking soda, and salt together in a large bowl.
In a separate bowl, whisk yogurt, lemon zest, and eggs until smooth.
Gently fold the yogurt mixture into the flour mixture until just combined.
Then fold in melted butter. Do not overmix. If you overmix, the muffins will be dense.
Divide the batter evenly among prepared muffin cups.
Bake until golden brown and toothpick inserted in the center comes out clean, 20 to 25 minutes.
Rotate muffin tin halfway through baking.
While muffins are baking, simmer sugar and lemon juice together in a small saucepan over medium heat until it turns into a light syrup, about 3-5 minutes.
Remove muffin tin to a wire rack. Brush with lemon syrup. Sprinkle with coarse sugar. Let muffins cool in tin for 5 minutes, then transfer to a wire rack and let cool for another 10 minutes before serving.
AND ENJOY!
XOXO
---